Florida Wildlife Federation Seeking to Delay Everglades Agricultural Area Storage Reservoir Project
Click below to view article:
http://campaign.r20.constantcontact.com/render?m=1117910826311&ca=3e81849c-5884-43f9-9757-78cf80867ae7

---
---
Future of the Florida panther being decided in Habitat Conservation Pla

n
Click the link below to view the article:
https://www.news-press.com/story/opinion/contributors/2018/11/24/future-florida-panther-and-collier-county-being-decided-now/2055824002/

FWC begins removal of tree stands within three wildlife management areas
The recent deer hunting season has come to a close on three popular wildlife management areas in south Florida, and in January the FWC will begin the process of removing abandoned tree stands within the Everglades and Francis S. Taylor, Rotenberger and Holey Land WMAs. These areas are, in whole or part, in Palm Beach, Broward and Miami-Dade counties.
Removal will begin in early January and continue throughout the month. Notices will be affixed to tree stands, and stands will be removed six days after this notification. However, some stands may be removed without notice.
Tree stand owners are encouraged to remove stands after hunting season ends, since abandoned tree stands present safety hazards and litter Florida's public lands. Specific WMA regulations require that tree stands used during the season must be removed after the season ends. All tree stands left in these WMAs outside of the allowed period will be removed and subject to disposal.
The FWC will remove and store the tree stands at an approved facility for 90 days prior to disposal while the FWC attempts to contact the owners.
"Our members handed out information at check stations during hunting season, reminding the public of the rules, so everyone should be well informed. We want to make sure that the owners have every opportunity to either remove their stands from the WMAs, or come pick them up from us after we remove them," said Maj. Camille Soverel, FWC Law Enforcement Regional Commander.
Owners of tree stands in the advised areas can contact the FWC at its South Regional Office at 561-625-5122 to check if their tree stand has been removed. The GPS and/or location and description of the tree stand will be needed when calling.
For more information on WMAs, visit MyFWC.com/Hunting and click on "WMA Brochures."
---
---
Gone from the 'glades: Federal rules to put Florida's legendary airboats in dry dock
Amid the sweeping sawgrass of Everglades National Park are sights and sounds that draw a million visitors every year: alligators and airboats.
Florida's Native Americans paddled dugout canoes through the shallow waters of the "river of grass" past the gators, snakes, blue herons and egrets. In the last century, Florida's "gladesmen" invented the airboat, making traversing the swamps far more efficient. South of the Tamiami Trail, gladesmen would hydroplane the propeller-powered airboats through the mangroves and sawgrass, hunting alligator and frogs or just enjoying the natural beauty of the swamp.
"You're taking away something I've done for 60 years ..."
- Jesse Kennon, 'gladesman'
After Everglades National Park was established in 1934, hunting was banned along with motorized vehicles, except in one small sliver of the park known as the Eastern Extension. Even though it became part of the 1.5 million-acre park in 1989, air boating has continued. But that 1989 act of Congress also mandated the U.S. Park Service come up with a comprehensive management plan which included the government buying up 9,000 parcels of land and holding nearly 50 public meetings over the years. Now, that plan is ready to be implemented, and that means the end of private air boating in Everglades National Park.
"It's heartbreaking for me," said Keith Price, president of the Airboat Association of Florida. "I've spent my lifetime sharing the everglades."
Fortunately for Price, the phasing out of the airboats will grandfather in those who can prove they were at least 16 years old and active air boaters as of 1989. Those gladesmen -- and it is still unclear how many qualify -- will still be able to do what they've always done. For everyone else, they only have a few months left.
"They're robbing our children and grandchildren of the culture and the heritage that is going on here," lamented Price.
The Park Service says don't blame Florida's premier national park, the largest east of the Rockies, blame Washington.
Aside from the grandfathered gladesmen, the only air boating that will continue to be allowed in the eastern section of the Park will be four commercial air boat tour operators. They'll no longer be independent, but will instead work as contractors for the park. Park officials will regulate their concessions and the number of runs they do.
At Coopertown Air Boat Tours—the oldest in the business, operating since 1945—73-year-old Jesse Kennon is lukewarm on the whole thing.
"You're taking away something I've done for 60 years and now saying, 'Okay, you're going to do what I want you to do,'" he said. "I don't mind working with the park, but I don't like to work FOR the park.
"There's a difference."
The official phase out of the private airboats goes into effect next year. The gladesmen fear this is a step towards the eventual demise of what's left of what they consider a critical piece of Florida's culture.
Unless a future Congress reverses the rules, the gladesmen can either airboat elsewhere, on state lands or those controlled by the Bureau of Land Management. Or, they can become what several defiantly have predicted: Everglades airboat outlaws, speeding through the Everglades, always on the lookout for Park Rangers on their own airboats.
Phil Keating joined Fox News Channel (FNC) in March 2004 and currently serves as FNC's Miami-based correspondent.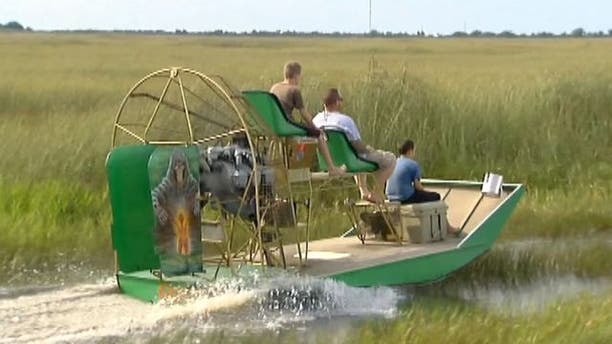 Draft Everglades System Status Report